UGC NET/JRF - Environmental Sciences - Special Course for June 23 Exam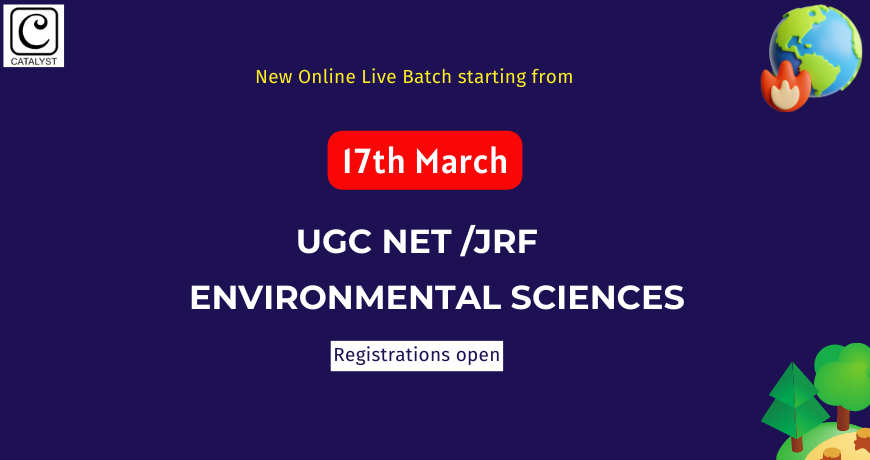 UGC NET/JRF - Environmental Sciences - Special Course for June 23 Exam
In today's technology driven world, one can get best of education sitting at home form best of teachers who are experts and renowned in their respective fields. This latest teaching method not only saves money and time but also allows one to start preparing for examination in the safe and congenial environment of home. CATLYST Center of Excellence offers Online Live Interactive course for NTA UGC NET/ JRF Environmental Sciences.
Features: -
These classes are held in live and interactive mode.

Two-way interaction possible between faculty and student through audio, video and chatting.

Those students who are living in distant places and cannot move out from their home can now get expert guidance by joining online classes.

Online classes are supplemented by printed study material, which is sent to the student by the institute through courier.

Live Classes are supported by video recordings for later revision. These recording are provided in separate app in which recording can be downloaded and students can watch them multiple times.

CATALYST Online classes also uses a white board just like that in offline classroom. The digital whiteboard is one of the best ways to get students involved in a lesson. Teacher can draw diagrams or can solve questions on white board by using different colour pen.

Teaching session include theory discussion and are followed by question answer session on that topic including solving previous year questions.

Online Tests on NTA based platform includes both Topical and Mock Tests (based on UGC NET pattern) to prepare students for the upcoming examination.
Programme details
Teaching methodology :  Full Online LIVE & Interactive (Browser based, can be attended on any device)
Live classes :   5 days a week (Mon-Fri 09:00 PM to 10:30 PM)
Live Class Recording :  Available for full duration of course (Optional)
Batch starting : 17th March, 2022 (for upcoming NTA UGC-NET exam)
Duration of programme :  3 months (Apporx.)
Doubt clearing session: Daily doubt clearing session
Test:   Topical Tests & Mock Tests
Medium of Teaching :  Mix of Hindi & English
Study materials :  Printed Study material to be sent by Institute
Course fee: Rs. 21000/ (includes GST, Study material, Online test series)
Demo Lecture – Click here.
Apply Now